Bill Goodwin is a main character in the television series, Fangbone!.
Personality
Bill is an goofy, lovable kid whose weirdness is his ultimate weapon. He is the sidekick and best friend of Fangbone, who he helps protect the toe from Venomous Drool on Earth.
Physical Appearance
Bill has orange hair, apricot skin, with orange-brown freckles on both sides of his cheeks, he wears a white long-sleeve shirt with black sleeves, and wears sky blue jeans with light blue cuffs on the bottom of the pants and black and white sneakers.
Skills
Relationships
Fangbone - He and Fangbone are best friends, and they both like to refer to eachother as "battle brothers". Every battle they get into, they work with eachother and protect one another.
Ms. Goodwin - He and his mom are very close and they both care for eachother like parent and son. She's known for making Bill and Fangbone waffles each morning before school.
Gallery
The Gallery for Bill can be found here
Alter Ego
WARNING: This page Contain SPOILERS, Please Watch The Episode Before Reading This
Will Goodwin
In Episode "The Breaker Of Oaths", After Bill Lies To Venomous Drool And Throws Him into the NIGHTLANDS, Bill's Hair Suddenly Changes The Color Orange to Blue
When Bill And Fangbone Thoughts They Finally Defeated Drool, Fangbone Meets A Stranger Named Will, A Young Boy Wearing Cape And A skull Mask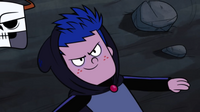 While Fangbone And Cid Fighting Him, Will's Skull Mask Removes, He Is Revealed to be Bill But The Other Side Of Him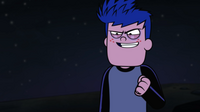 Unlike Bill, Will Is Shown To Be Bad, His Clothes Is Similar To Bill's But With The Color Grey, Bags Under The Eyes And Has Familiar Hairstyle, His Hair Color Is Blue Unlike Bill's
Memorable Quotes
References
Community content is available under
CC-BY-SA
unless otherwise noted.